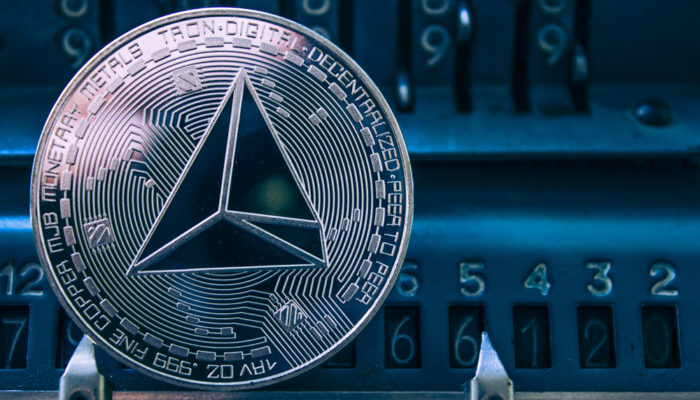 Tron has become an exception in a long-running bear market of cryptocurrencies.
The decentralized blockchain protocol experienced a twofold surge in the value of its native token TRX. Between November 20, 2018, and January 18, 2018, the TRX/USD pair rose from 0.0132 to 0.0249, according to CoinMarketCap.com. In the same timeframe, the Bitcoin price dropped 18.37%, from $4474.58 to $3,652.50 while TRX's closest competitors Ether and EOS experienced 18.39% and 33.42% worth of losses in US Dollars, respectively.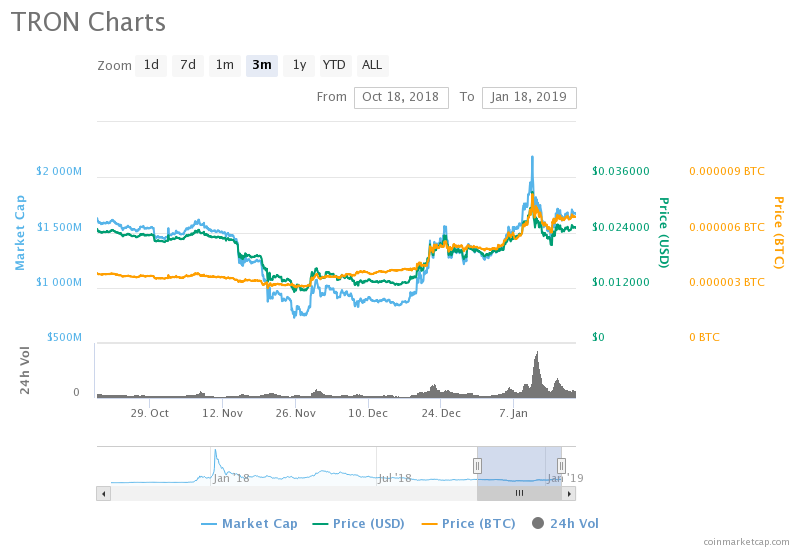 The surge assisted TRX to maintain its position among the top ten cryptocurrencies. Tron's total market capitalization at press time touched $1.67 billion, as confirmed by CoinMarketCap.com's aggregated data.
What Made Tron's TRX Rise
Earlier this month, Tron's founder and CEO Justin Sun announced that they would soon launch BitTorrent Token (BTT).
Sun revealed that BTT would "create a token-based economy around the usage of networking, bandwidth, and storage" in BitTorrent's file-sharing system. The 28-year old entrepreneur also said that with BTT, BitTorrent's 50 million global users would automatically adopt blockchain. He also confirmed that TRX holders would receive some stakes in BTT, a reason why Tron's token's demand increased dramatically.
250$ BTT Giveaway for 100 Members
– Follow Us
– Retweet
– Comment BTT
Winners will be chosen randomly in 10 days
Good luck everyone!$ETH $TRX $BTT $BNB pic.twitter.com/oktnJqjwPg
— BitTorrent (@BitTorrents) January 18, 2019
What also helped Tron was a flawlessly handled marketing. Sun made a lot of noise when they acquired BitTorrent for $60 million. He kept appearing across public boards via interviews and Twitter to build a solid marketing campaign. And every word Sun wrote or said during these three months projected Tron as the world's biggest cryptocurrency project.
This is BIG, an ICO for @BitTorrent with 100M users and nice concept for token economics – lead by @Tronfoundation who bought @BitTorrent and partnering with @binance . I promised myself I wont invest in any ICOs for a while, but its interesting… smart move from $TRX… #myidea https://t.co/VVrEBWqxBY
— Yoni Assia (@yoniassia) January 17, 2019
For instance, Sun claimed that Tron could confirm transactions faster than Ethereum and EOS. He announced a $100 million fund for developers who run their decentralized apps on Tron's network. He even went ahead to call a Chinese internet giant Baidu its partner while, in reality, Tron was only a customer to Baidu's cloud computing services.
Nevertheless, every announcement made by Sun met with positive response from traders. TRX price rose as much as marketing maintained the token's hype.
Criticism
Simon Morris, who was an executive at BitTorrent for ten years, confirmed that Tron could not handle the number of transactions they needed to tokenize BitTorrent. He clarified that his team had started building the blockchain project before Tron acquired it.
"It seems they're going in the same direction [as our plan]," Morris told Breaker. "But what's very clear is that they are going to say they are going in the same direction, come what may, because that's what Tron does; it's [basically] a marketing machine layered on a very thin veneer of technology."
Ryan Selkis, chief executive officer at researcher Messari Inc., told Bloomberg:
"A lot of people wrote off Tron as all hype/marketing and no substance, but they made a lot of noise with the BitTorrent acquisition, and now I think it's an open question of whether they will be one of crypto's most high profile 'fake it til you make it' success stories."
You must be logged in to post a comment.
Copyright © 2023 iCryptome.com