As the crypto and blockchain industry continues to develop, there is certainly no shortage of P2E games, and for good reason. After all, with record-setting inflation and massive unemployment rates throughout the world, it would make perfect sense that an increasing number of people are actively seeking new, innovative and reliable ways of earning money. In fact, the P2E sector has been so successful that many have begun depending on it as their main source of income.
To that end, there is a brand new P2E game that should be on everyone's radar, Mummy.io. This is an MMO RPG built on BSC (Binance Smart Chain) and Polygon which utilizes the extremely powerful Unreal Engine 5 technology in order to deliver mind blowingly realistic graphics and the ability to earn money while enjoying the game.
Contents
Mummy.io is a cutting-edge MMO game which brings long-forgotten myths from the ancient Egyptian civilization to life. In a nutshell, the game presents fast-action combat mechanics set in the abundant world of ancient Egypt, a realm torn between order and chaos whose fate rests in the hands of the Gods. Mummy.io was created using Unreal Engine 5, with the goal of delivering a high-fidelity product which gamers can play without paying anything and be able to earn money at the same time.
Additionally, the players will be given true ownership of the in-game assets which will take the form of non-fungible tokens. The overall objective of Mummy.io is to present a game which features the best visuals, a complex and viable in-game economy, and, most importantly, a fun and memorable experience.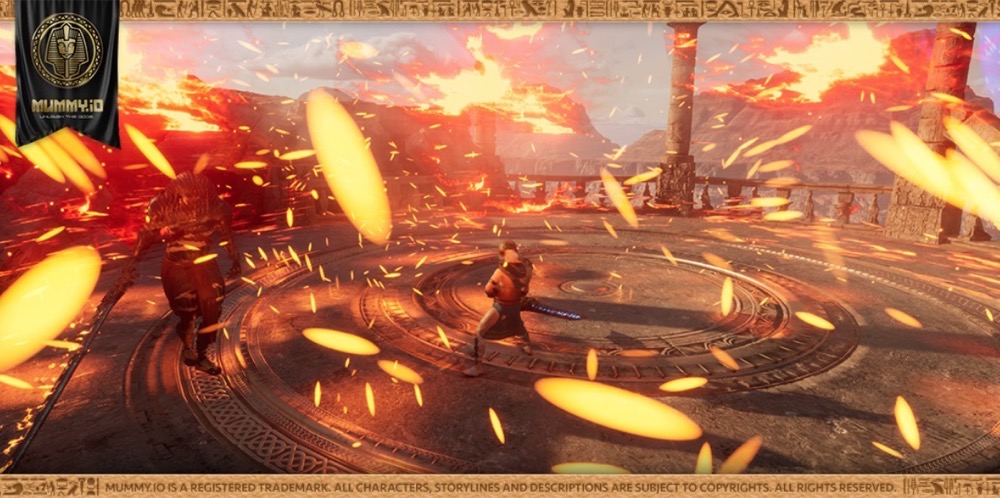 The game will thus essentially be a multiplayer open-world action RPG set in ancient Egypt, as aforementioned. As such, Mummy.io shall test players' strength, skills, determination and wit as they explore the environment, complete quests for different factions, and collaborate with other players to complete given tasks. They can also enjoy the single-player based PVE mode or try their hand at competing with other players in the PVP mode, there is something for everyone. Also, regarding the social aspect of Mummy.io, players have the option to create their very own Guilds and invite others to join, with each Guild siding with either the Chaos or Order faction. In addition to progressing through crafts and professions, wherein players can win and unlock loot boxes containing precious in-game items, users can even create and customize their own temples and pyramids which they can then sell or rent to other players, or even use as a location to organize events.
Although originally free to play, the game economy, which is based on a P2E model, includes a reward system that includes attractive bonuses like gold, various in-game items and NFTs, all of which can be traded by the players in exchange for crypto that can then be sold for real money. The native token of the game is $MMY.
Furthermore, Mummy.io's players shall be allowed to trade consumables and various items shall be made available for purchase in-game with crypto or fiat currencies, along with being compatible with an NFT format via the marketplace as well.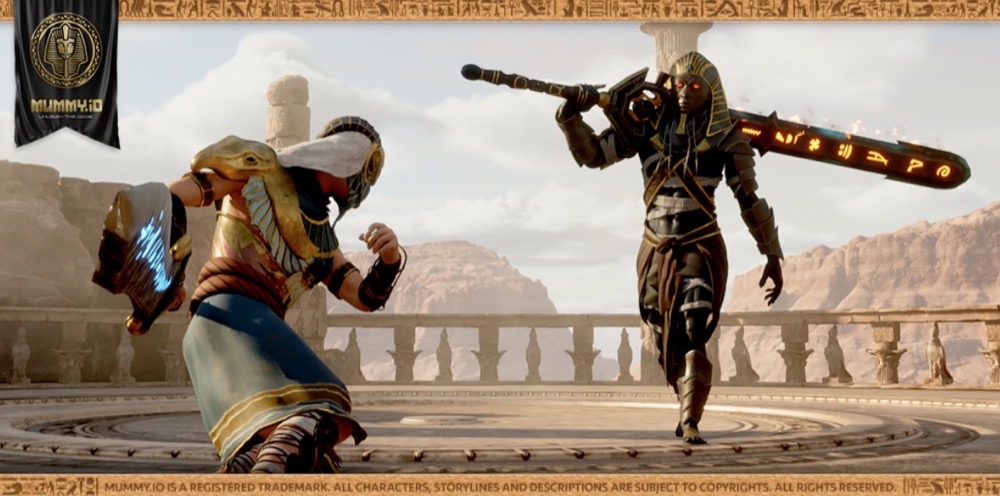 Naturally, there are numerous P2E games that can be found nowadays, with some of the more famous examples being among the likes of The Sandbox (SAND). Realizing the stiff competition that they face, the Mummy.io team strives to be different by firstly utilizing Unreal Engine 5 and secondly by making a free-to-play game that is highly enjoyable, social in nature (with a strong emphasis on community), and is created by gamers for gamers. According to the developers, who have previously worked in companies such as Square Enix and Ubisoft, so many P2E games nowadays often feel like a chore and the 'fun' element is usually missing, but this reportedly will not be the case with Mummy.io.
Also, Mummy.io shall be selling Land H1 2023. Specific locations of the Mummy world have been divided into land parcels that can be purchased in the future. Land owners can use it to build infrastructure, rent it to other players, or stake it for passive income. This, in turn, will make new partnerships accessible to Mummy.io and a truly multi-world metaverse experience will be the result.
The team is also working hard to create a fun and interactive metaverse with exciting gameplay that additionally includes numerous opportunities for socializing and interaction, along with exciting bonuses and rewards that can further enhance the P2E experience.
During difficult and complex battles, the fast-paced combat system allows players to greatly improve their skills, combat abilities and much more such as chain skills, parries, and dodges. Needless to say, the game is hence highly dynamic and the emphasis is not just on the advanced graphics, but also on the reaction-intensive gameplay, thereby significantly improving immersion for the players and putting the focus back on the gameplay and not just on the visuals.
While fans wait for the game to be finished, the team has released screenshots from the demo teaser and even an interesting feature known as 'The Mummy.io Manifesto'. In the end, although there is certainly plenty of work yet to be done, this is one game that everyone should be keeping a close eye on going forward as the demo shall be available in the third quarter of 2022 and will be accessible exclusively by the Mummy community.
In fact, there is plenty to look forward to as per the project's roadmap, as the focus right now is firmly on delivering the first amazing chapter of the demo which will also be upgraded in the coming months with new environments, lore, NPC interactions, and interesting characters. Lastly, apart from the pre-alpha version which will follow towards the end of the year, the team is also currently working on Mummy.io's 'Primordial NFT Collection', so make sure to keep an eye on the social media channels for details about the whitelist. Ultimately though, the game has plenty to be excited about including the NFT collection, 3D items (which also have varying levels of rarity and grant owners full membership in the Founder's Pyramid), and last but not least an impressive framework in Mummy.io's metaverse which effectively combines contemporary and modern design choices with the aesthetics and unique environment of the ancient world.
Copyright © 2023 iCryptome.com