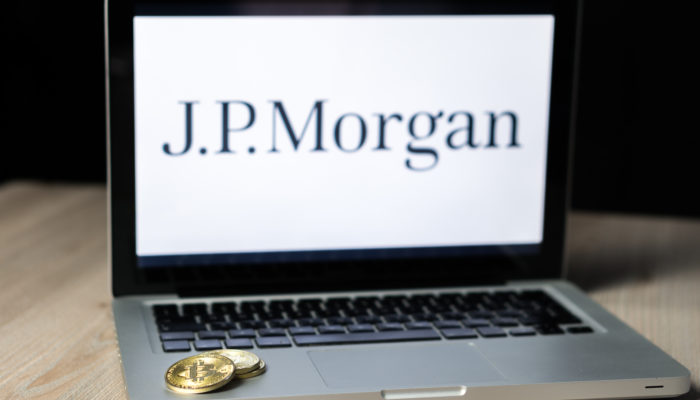 After first calling Bitcoin a fraud in 2017, JP Morgan Chase CEO Jamie Dimon later said he regretted the statement in 2018. Now his firm has announced a new crypto called JPM Coin that'll be used to instantaneously settle payments between banking clients in a similar vein to Ripple's XRP.
The announcement is viewed as both a positive and a negative for the crypto space and individual assets such as Bitcoin and XRP. The news already has the industry buzzing, offering up insightful thoughts on the impact this could have on the crypto landscape for years to come.
JP Morgan Announces JPM Coin, First US-Bank Created Crypto
In a shocking move, JP Morgan Chase has announced the first cryptocurrency to be designed by a major United States-based traditional banking firm. The crypto, called JPM Coin, will be used to facilitate near-instant transactions between the firm's clientele.
JP Morgan is said to move over $6 trillion around the globe each day for its clients. While only a portion of that will be dedicated to a pilot test integrating JPM Coin, to put things into perspective, only 2% of JP Morgan's $6 trillion in daily payments would be worth as much as the entire current cryptocurrency market cap. There is no denying that the implications of this announcement are massive, especially if the trials prove successful and JP Morgan utilizes JPM Coin across its entire business.
JP Morgan's CEO Jamie Dimon has repeatedly trashed cryptocurrency, especially Bitcoin in the past, even calling his daughter "stupid" for buying Bitcoin years ago. But now, his firm is not only supporting the emerging technology in a major way, they're also loudly demonstrating that cryptocurrency as a use case is valid and the asset class is here to stay.
Crypto Industry Sounds Off On JPM Coin, Impact on Bitcoin and XRP
Following the stunning announcement, the entire crypto industry responded equally with enthusiasm and disgust. Many are annoyed and even fearful of the impact a major player in the traditional finance space might have on the crypto market, while others are thrilled at what JP Morgan's stamp of approval on crypto as a whole might do for the market.
Outspoken crypto investor WhalePanda believes that the JP Morgan announcement is "long term a positive thing for Bitcoin," but joked about how Ripple investors would "scream in agony."
On a serious note: I think the JP Morgan thing is long term a positive thing for Bitcoin. Let them play around with their stablecoin, once we get more mainstream the "cryptocurrency infrastructure" already sort of exists.
XRP was at the center of much of the discussion, with CNBC correspondent Ran Neuner even joining in on poking fun of Ripple's native cryptocurrency. TheBlockCrypto's Mike Dudas called the announcement "horrible news for Ripple and XRP."
While the nod from JP Morgan does help to legitimize crypto as a whole and even extends into Bitcoin given Dimon's comments in the past, JPM Coin does seemingly challenge XRP in a big way. Both are designed to settle payments between institutions instantly using a cryptocurrency, however, the Ripple name and business is nowhere near the size and weight of a major player such as JP Morgan Chase, and both Ripple and holders of XRP will be watching closely as JP Morgan's plans for JPM Coin develop.
Copyright © 2023 iCryptome.com