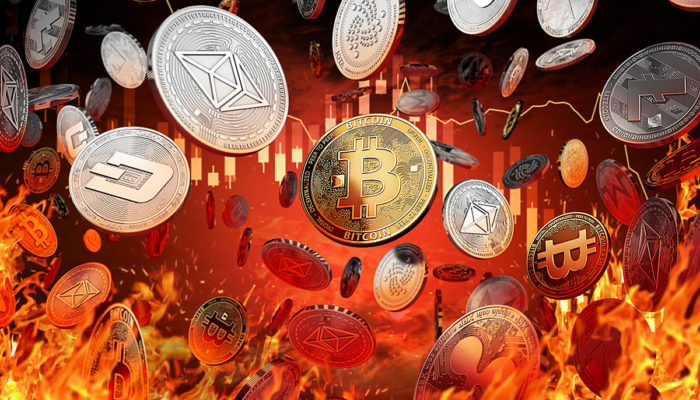 What goes up must come down. Many had predicted a market correction but few of them expected it to be so fast and so violent. In just over an hour $14 billion was unceremoniously dumped out of crypto markets as Bitcoin and its brethren plunged back below previous levels of resistance.
2019's Largest Single Day Dump
Crypto markets are still showing no signs of settling down and remain as turbulent and volatile as ever. The rout which began at 14.00 UTC yesterday resulted in total market capitalization plummeting from 2019 highs of over $144 billion to $127 billion a couple of hours later. This, the biggest single day dump of the year, resulted in $17 billion flooding out in a slide of almost 12%.
The previous big nosedive was on January tenth when similar action lost $10 billion in a matter of hours and almost $16 billion over the 24 hour period. Volume was greater this time round hitting a yearly high of almost $40 billion. Since the flash crash crypto markets have settled at around the $128 billion level, which is still higher than they have been for most of this month.
Party Ended Sooner This Time Round
Prominent crypto analyst Murad Mahmudov has compared almost identical looking charts from similar market action in 2014. This difference this time around is that the prices are a magnitude of ten higher. The chart action is uncannily similar aside from the fact that this dump has come quicker;
As reported by NewsBTC a couple of days ago the Bitcoin 200 moving average was critical in the pullback. It has been the key resistance point for most of the now 13 month long bear market. Bitcoin spent much of Sunday testing this range at $4,200 before bouncing off it and crashing through previous resistance turned temporary support at $4,000 before settling at $3,850 where it currently trades.
Corrections will occur time and time again when crypto assets make rapid gains in short spaces of time. Day traders and scalpers probably love the action but the volatility may still be off putting for institutional investors seeking more stable gains over a longer period.
Another interesting observation is that a long term lagging indicator for Bitcoin has turned bearish for the first time in four years. The 50 week moving average has dropped below the 100 week moving average in a bearish crossover. When this last happened in 2015 it served as a signal that the bottom has been solidified and it was approaching the end of a long bearish market. Analysts would claim that the bears are starting to tire now and a major reversal could happen later this year.
Copyright © 2023 iCryptome.com