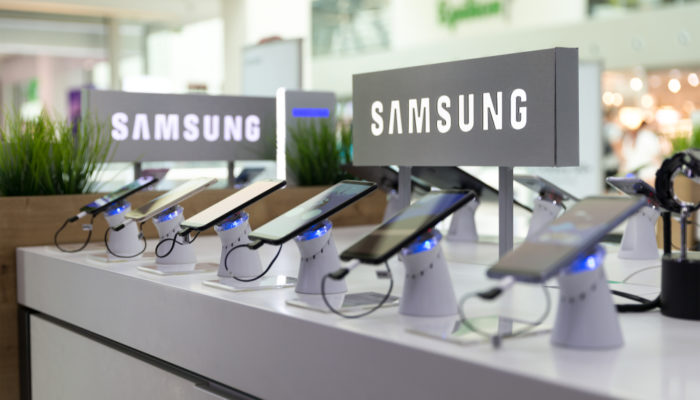 This week, images were leaked potentially giving the world its first glimpse at South Korea-based tech giant Samsung's flagship smartphone, the Galaxy S10. Among the images, was evidence that Samsung could be ready to launch a crypto wallet to store cryptocurrencies like Ethereum, and a blockchain explorer service called Samsung Blockchain KeyStore.
While the leaked images aren't yet confirmation that the much-anticipated iPhone killer will indeed ship with the crypto wallet in tow, if it does, Samsung will be exposing crypto and blockchain to millions of its most tech-savvy smartphone users.
Samsung Galaxy S10 May Ship With Crypto Wallet, Blockchain Explorer
The smartphone market has been one of the hottest markets with the fiercest competition over the last decade. Apple and Samsung, and more recently in Asia, Xiaomi, have been battling for market share and are constantly adding new features to their smartphones in each new iteration to lure users from one brand to the other.
Samsung often leads with new features, while Apple is said to later take those same features and perfect them. In the Galaxy S10 – the closest competitor to Apple's iPhone – Samsung may be adding a crypto wallet and other blockchain-related features to the phone via a new Blockchain KeyStore application.
Related Reading | Crypto and Blockchain Smartphones Will be The Next Big Thing
According to Samsung-focused media outlet SamMobile, new leaked images of the Galaxy S10 appear to show the Blockchain KeyStore application live in action. The app welcome page explains that Samsung Blockchain KeyStore "is a secure and convenient place for your cryptocurrency."
Galaxy s10 with crypto wallet? pic.twitter.com/6IICujXEnm
— Gregory Blake (@GregiPfister89) January 22, 2019
The existence of Samsung's Blockchain Keystore was first reported last month, stemming from patents the South Korean firm had previously filed in relation to cryptocurrency wallets for cold storage, among other blockchain-related patents.
Initial reports mentioned that the Blockchain Keystore app will store private keys behind biometric authentication, can sign transactions, and can view account information and transaction history of each cryptocurrency wallet.
The leaked photos show only Ethereum as a supported cryptocurrency, however, rumors suggest that the app will launch with support for Bitcoin, Ethereum, Bitcoin Cash, and Ethereum-based ERC-20 tokens.
Samsung's Blockchain Keystore Makes Crypto Adoption Easy For Millions Of Users
Cryptocurrency is a new technology, and emerging asset class that isn't widely understood by the mainstream public. Like the internet before it, crypto has many years of adoption ahead of it before its potential is ever fully realized. This latest move from Samsung may speed up crypto adoption by exposing cryptocurrencies and blockchain to its million of customers who will purchase the flagship smartphone.
The original Galaxy S launched in June 2010, and in the nine years since then smartphones went from a device reserved for tech enthusiasts looking for the next big thing, to becoming an everyday item people cannot live without. Samsung's inclusion of crypto-related features in its smartphone could do the same for cryptocurrencies.
Related Reading | Samsung Eyes Crypto Market, Begins Manufacturing Bitcoin ASIC Mining Chips
Smartphones have succeeded due to their simplistic design, ease of use, and the fact they've become an almost necessary device for those seeking to stay in touch with friends, family, and business contacts. By placing cryptocurrencies at the fingertips of these users, crypto could see a similar path of adoption through familiarity alone.
The year the Galaxy S released, Samsung shipped 22 million units of the smartphone. However, starting in Q2 2013, when the smartphone market began to boom, Samsung has shipped over 70 million units per quarter, totaling nearly 300 million smartphones shipped each year.
In the almost six years since then, Samsung has shipped nearly 2 billion smartphones. While it took years to achieve, the inclusion of a crypto wallet in Samsung smartphone has the potential to expose crypto and blockchain to millions – and potentially billions – of tech-savvy smartphone users.
You must be logged in to post a comment.
Copyright © 2023 iCryptome.com