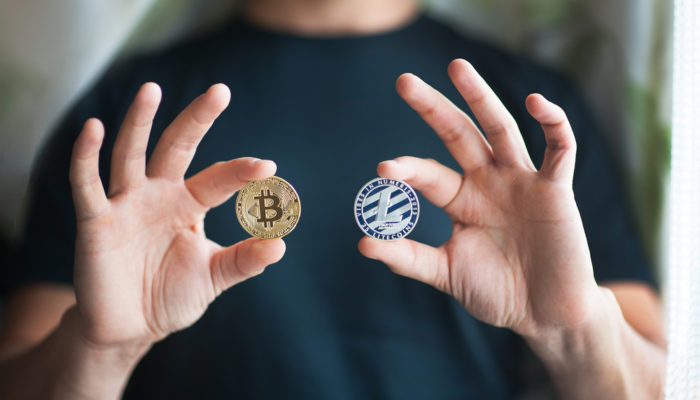 Investors who purchased Litecoin during the significant November 2018 sell-off earned four times more returns than the investors who bought Bitcoin, highlighted Joe McCann.
The financial expert, who serves as the head of systematic trading at crypto asset management firm, Passport Capital, calculated the returns made by the "silver cryptocurrency" from its three-month low to its three-month session high. He found that between November 14, 2018, and February 18, 2019, bitcoin price recovered up to 25.19 percent from its session low. On the other hand, Litecoin corrected as high as 118.67 percent within the same timeframe.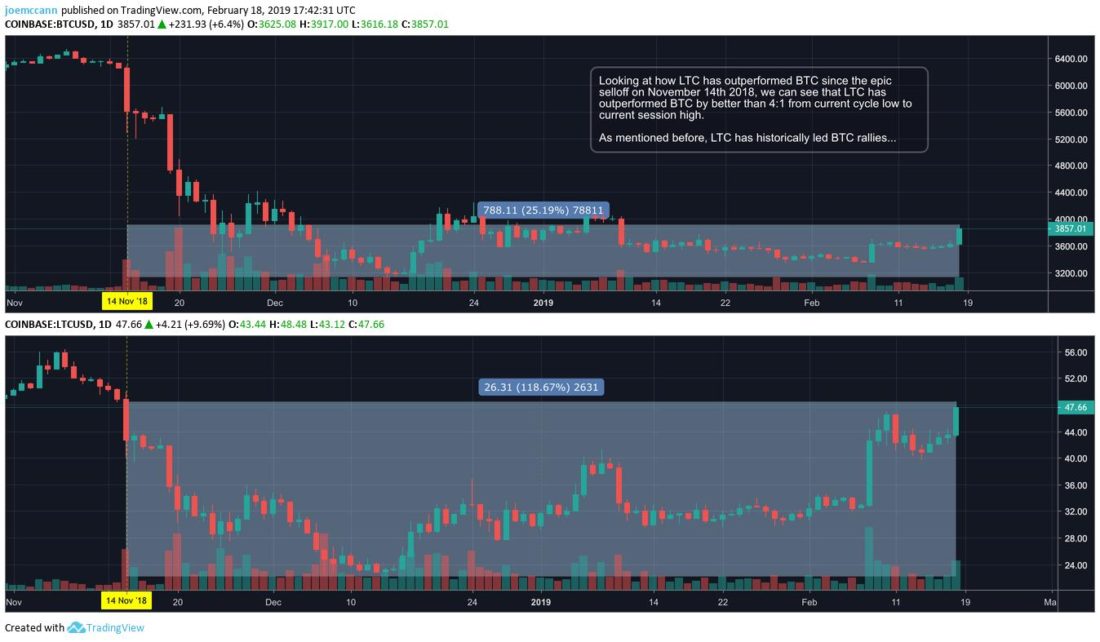 McCann also called attention to the correlation between Bitcoin and Litecoin over the years. He claimed that Litecoin historically led the Bitcoin rallies, hinting that the altcoin's latest upside moves could prompt an extended bullish momentum in the BTC market.
As of 0900 UTC, the BTC-to-USD exchange rate was trending near $3,944, which is its best since January 11. According to CoinMarketCap.com 24-hour price calculator, the pair has surged a little over 5 percent. On the other hand, Litecoin has jumped close to 8 percent within the same time.
However, it cannot be said that Litecoin gains could benefit Bitcoin. It could have been possible when the altcoin was among the few projects that competed with bitcoin. But now, the altcoin market is overpopulated with cryptocurrencies that could allow traders to swap their LTC positions for coins other than BTC.
Galaxy, a Twitter-based cryptocurrency analyst with 48.4k followers, said that it was the entire altcoin market that was leading the ongoing bitcoin rally. It predicted that BTC dominance rate would breakdown in 2019 while the market will enter a so-called altseason.
1. Build up $BTC domination
2. Breakdown
3. Altseason
4. Rinse and repeat.
Furthermore, looks like the weaker the dominance uptrend the longer the altseason and so far this one is the weakest.
So far, some of the top coins have indeed outperformed bitcoin in terms of a rebound. Ethereum, the world's second largest cryptocurrency, posted a 90-day surge of 10 percent. Similarly, Tron's TRX surged 81 percent, Binance' BNB jumped 62.46 percent, and even Bitcoin SV's BSV leaped 30 percent. At the same time, bitcoin's 90-day performance was at a negated 13 percent.

Would Bitcoin Fall Behind?
It is unlikely for altcoins to displace Bitcoin from its top position despite its weak dominance scenario. The world's leading cryptocurrency is running ahead of its clone projects in terms of institutional adoption. Its fundamentals are the strongest for 2o19, thanks to regulators' likelihood of approving its trading derivatives.
BlockTower's Ari Paul said that cryptocurrencies couldn't match up to the supremacy of bitcoin by just adding features or with incrementally better transactional throughput.
A.T. Kearney, a management consulting company, also claimed that bitcoin would reserve its dominance on the crypto market. In the firm's opinion, the bitcoin dominance rate could even go up to 66% in the future.
Copyright © 2023 iCryptome.com