Contents
The world of technology is filled with buzzwords these days. From AR to VR, AI to blockchain, it can be difficult to know when these technologies are worth leveraging. Several manufacturing businesses find blockchain particularly appealing because of its ability to be applied to various business processes, coupled with its inherent security and reliability. indu4.0 is one of many projects emerging in the industrial sector! indu4.0 is a blockchain-based project, seeking to revamp manufacturing with its native token, INDU.
Indu4.0 AG is a Swiss-based company that developed its platform indu4.0. indu4.0 project is a digital B2B marketplace targeted at the manufacturing industry that seeks to link supply and demand more efficiently and economically. This project aims to pioneer a digital B2B marketplace for the trillion-dollar manufacturing industry. It has already integrated numerous complex industrial products and services into the user-friendly platform with sophisticated filter systems. This article comprehensively overviews this cutting-edge platform and its native token for the manufacturing industry. Read on to learn more about its features, tokens, and benefits!
The INDU token serves as the payment token for the Indu4.0 AG services. Thus users will be able to pay with INDU tokens for everything the company offers, including virtual trade shows, events, advertisements, and exclusive industry reports. With the INDU token, manufacturing will finally have its own currency, with a value more easily tradable. The INDU token will have 750,000,000 pieces, of which 37% are sold at the ICO at a very low price.
The public presale of INDU tokens is currently underway. Sign up for the Presale here. You can take part in the sale to own INDU tokens. It is expected that the funds collected from the presale will be used to expand the team of developers. The money will also be used to cover marketing expenses and pay for infrastructure and office costs.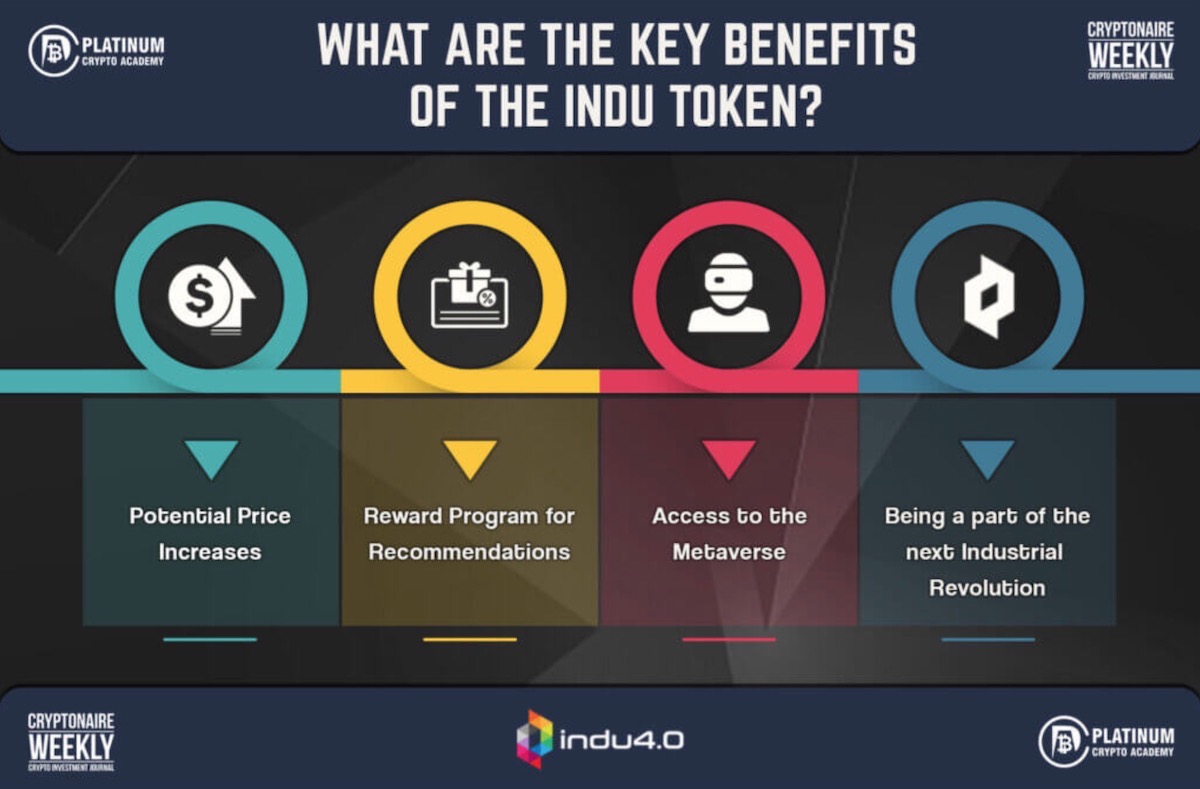 indu4.0 is a new initiative to transform the manufacturing industry – the biggest sector in the world. This digital revolution will depend on the INDU token, which aims to become a native token for manufacturing. Right now, you can buy INDU tokens for a very low price, which is a worthwhile investment. As time passes, more INDU tokens will come into circulation, increasing token value. Now's the time to join the journey to revolutionize the industrial sector!
indu4.0 has a loyalty program that rewards long-term users with INDU tokens. The indu4.0 platform rewards active users who subscribe and keep their profiles up-to-date. Customers can choose from three loyalty levels – Beginners, Pros, and Elites – based on their usage of the indu4.0 platform and the revenue generated. Each loyalty level offers a different reward.
Metaverse refers to a highly interactive virtual world. Metaverse users can trade digital assets like documents, files, and other digital assets, just like in the real world. A virtual space is available on indu4.0 for platform users where they can upload, watch and place ads using their INDU token. Users of INDU tokens will have priority access to the manufacturing metaverse, where they can buy and own property.
Blockchain solutions can alleviate common manufacturing pain points, such as onboarding suppliers and distributing products. Indu 4.0 AG developed the indu4.0 platform to unlock the potential of the manufacturing sector by integrating blockchain technology. Currently, the company offers many features to its users, and the INDU token also offers many benefits. This project has high ambitions, and its roadmap reflects those ambitions. There will be a lot of development in the future. Potential community members should participate in the next Industrial Revolution by being part of indu4.0 by acquiring INDU token!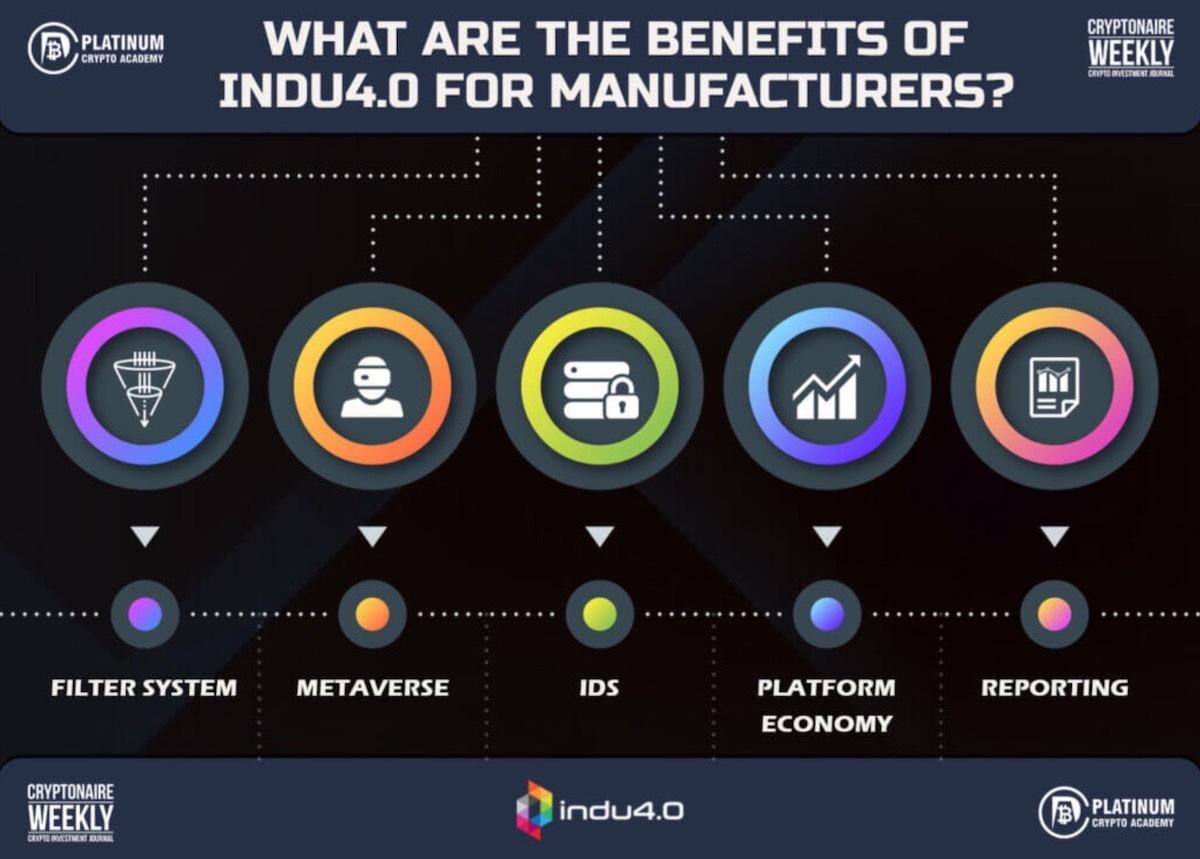 indu4.0 manufactures a range of highly automated, fully enclosed, sophisticated filter systems for the manufacturing sector. With its sophisticated filter system, users can quickly find what they are looking for. Thus, users can be confident that they will receive inquiries suitable for their specific offers.
In the recent pandemic, the metaverse concept gained traction as people avoided in-person interaction, businesses adopted remote working policies, and digital communication methods became more prevalent. The blockchain-based, shared virtual space in indu4.0 allows users to explore and interact with a virtual world. The indu4.0 metaverse space lets you advertise on the platform or find trade shows you can pay for using INDU tokens. Furthermore, virtual exhibitions help to reduce the overall emissions of companies and thus contribute to their carbon footprint.
indu4.0 presents IDS (indu Data Security), their future security standard for all industry data. This shows that data security is the primary focus in the indu4.0 platform. This IDS is responsible for the data security of all kinds of data in the platform such as technical drawings, blueprints, and industry sensitive data.
With indu4.0, suppliers and purchasers can connect more efficiently and effectively. Through the platform, buyers can send offer requests directly to suppliers with just a few clicks. The search function is fully functional, and they can use the platform without logging in. indu4.0 lets you search for suppliers easily and quickly. It's easy for the purchaser to find suppliers for the services they need with standardised terms and filter steps. Meanwhile, suppliers can create company profiles and view all offer requests from purchasers which leads to new customer acquisition opportunities.
The indu4.0 reporting system has exclusive features designed to attract potential users. The platform's reporting system gathers and organises data from databases into reports, manages them, and distributes them to users so they can make better business decisions. With INDU tokens, users can buy advertising and benefit from lower fees thanks to paying with INDU.
There is no way for the purchaser to search for a specific item. Nowadays, the options are all tedious and inefficient, so you have to do a lot of searches or check suppliers manually. To solve this problem, indu4.0 lets you search for suppliers easily and quickly. It's easy for the purchaser to find suppliers for the services they need with standardised terms and filter steps.
In today's digital age, it's more important than ever to entice potential customers with your new platform. Today, it's crucial to have content in a language that visitors can understand. As a result, the indu4.0 platform will be multilingual, supporting EN, DE, FR, and IT languages, so buyers and suppliers can choose the language they prefer.
Manufacturing is one of the world's largest industries, worth trillions of dollars and employing millions of people. The industry, however, suffers from inefficiencies. The problems can be solved if manufacturers and suppliers are more easily connected. The idea of indu4.0 came from bringing manufacturers and suppliers together. This platform uses blockchain technology to improve communication and collaboration between both sides.
The roadmap for indu4.0 is ambitious, and the team is doing everything possible to make it a success. INDU tokens will fuel the indu4.0 platform, helping you reach new heights in the industrial sphere. The INDU token is supposed to become the industry currency and facilitate more realistic trading. Hence, it is a great opportunity for crypto enthusiasts to become part of the next Industrial Revolution. If you're looking for a project that'll transform the manufacturing industry for the better, indu4.0 is a groundbreaking option. Take advantage of this potential earning opportunity and be part of this biggest change!
VISIT THEIR WEBSITE:
https://www.indu40.io/?utm_source=PRbonus&utm_medium=Traffus&utm_campaign=indu4.0
Copyright © 2023 iCryptome.com