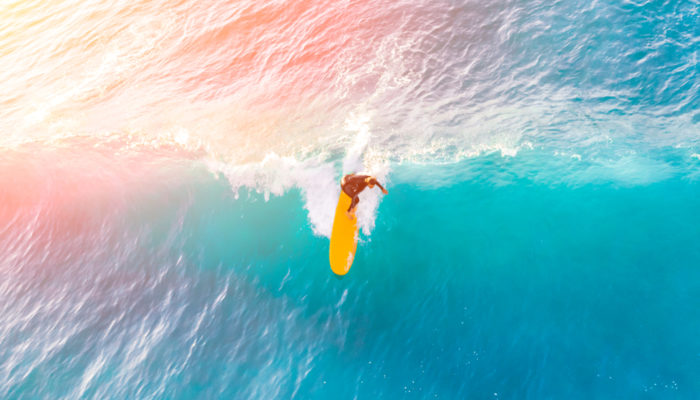 For the first time in a blue moon, the crypto market underwent a notable rally. Since Ethereum (ETH) bulls began to show signs of life on Sunday, with the cryptocurrency rallying past $130, Bitcoin (BTC) and other digital assets have followed close behind.
As of the time of writing, BTC has found itself at $3,920, approaching the ever-important level of technical and psychological resistance at $4,000. Ether has neared its $150 mark, as ETHDenver and the upcoming Constantinople hard fork have seemingly given the asset a slight boost. A majority of other cryptocurrencies have also posted notable gains, which comes after a ten-day lull in this budding market.
Gains across the board, which were backed by a staggering $34 billion in daily nominal volume, have allowed the aggregate value of all cryptocurrencies to swell from $120 billion on Sunday morning to $133 billion currently — a gain of a jaw-dropping 10% in under 36 hours.
Financial Survivalism, a full-time crypto trader that recently called for BTC to bottom at $1,165, noted that the cryptocurrency peaking just shy of $4,000 was likely the end of yesterday's run. The self-proclaimed "financial revolution prepper" explained that the four 15-minute and nine 15-minute exponential moving averages (EMAs) recently underwent a "bearish crossover," leaving BTC below it.
Considering Bitcoin's propensity to undergo a 10% rally or drop in a day's time, rather than anything more, coupled with the status of short-term EMAs, Survivalism concluded that a pullback to $3,750 could be a possibility to precede a rally past $4,100.
David Puell, a lesser-known, yet well-respected trader, also remained skeptical in the very short-term. Puell noted that as it stands, BTC is currently trading in a bull trap pattern, and could be eventually pushed down by a declining trendline, along with the 30-week moving average.
Does This Crypto Rally Have Legs?
While the aforementioned analysts seem to be convinced that a short-term pullback would be in order, some argue that Bitcoin still has legs to run on. The team at Bitcoin Bravado, a leading crypto-centric technical analysis outfit, recently divulged that due to the influx of volume seen Sunday and Monday, along with the fact BTC surpassed its 50-day EMA, this move could see further upside.
Mati Greenspan, eToro's in-house crypto researcher, echoed the idea that the notable levels of volume should have investors enthused. In a recent Twitter thread, Greenspan noted that a "very healthy sign" is that the recent market price action was catalyzed by "strong volume," adding that this means this move is likely "more meaningful" than the sporadic pumps seen historically.
Although some would claim that it's too early to be bullish from a medium-term (or longer) standpoint, Monday's move has already convinced some that bears are preparing for hibernation. Trader Mayne, a long-time cryptocurrency trader, noted that as there have been notable bullish moves over recent weeks, it wouldn't be nonsensical to claim that the bear market could be over. He added that those stuck with bearish lenses, like Murad Mahmudov, Tone Vays, along with other short-term skeptics, could miss out.
Some may be calling for an end to the bear market, but there remains a notable level that Bitcoin needs to breach confidently to confirm a longer-term bull trend. For those who missed the memo, this level is around $4,800, which Greenspan, Survivalism, and the Bravado team pointed out in recent tweets. In their eyes, the 200-day EMA, currently situated around the aforementioned price point, will continue to be an important level of resistance, as this measure supported Bitcoin throughout multiple times its 2017 rally.
Copyright © 2023 iCryptome.com