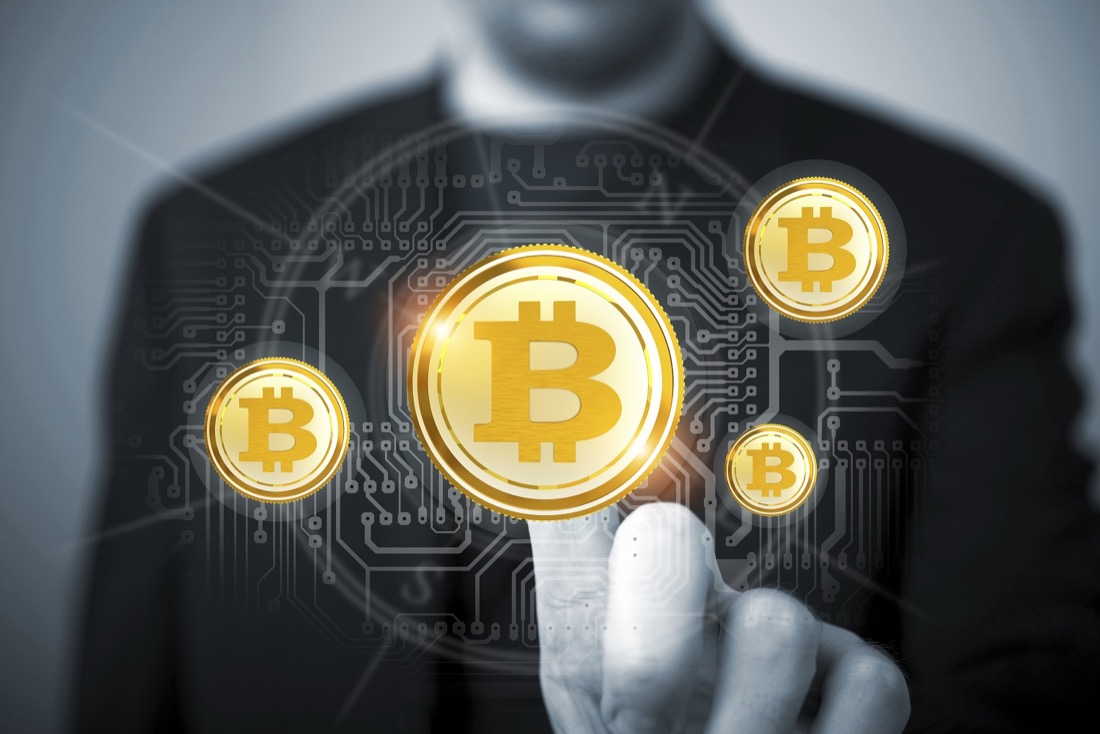 The major players have already successfully cemented their positions in the cryptocurrency market. As a consequence, new platforms appear much less frequently than they did five years ago. And this is precisely why much more attention is now paid to new entrants to the market. One of the newest and most up-and-coming players in the cryptocurrency market is StormGain. Today, we are going to take a closer look at this platform's features.
Contents
StormGain started operations in 2019. The target market for this cryptocurrency platform consists of both beginners and experienced cryptotraders – cryptocurrency enthusiasts who need to be able to quickly and efficiently convert their digital money. Among these, there are also cryptocurrency investors looking to earn a stable income.
StormGain users are able to choose from a large selection of trading instruments. These include both in-demand crypto instruments, such as Bitcoin, Ethereum and the like, as well as less popular options like Tron, Bitcoin Gold, etc.
Even though the platform is relatively new to the market, it has already made a good reputation for itself. The traders who use it often compare it to services like Kraken and Huobi Binance. In addition, StormGain is also the official sponsor of one of the English Premier League's leading clubs – Newcastle United, which is a significant factor for earning the trust of users and potential clients.
The registration process has been made as simple as possible when compared to many other platforms. To register, all you need is an email address and phone number. The user then enters any other necessary details via their personal account.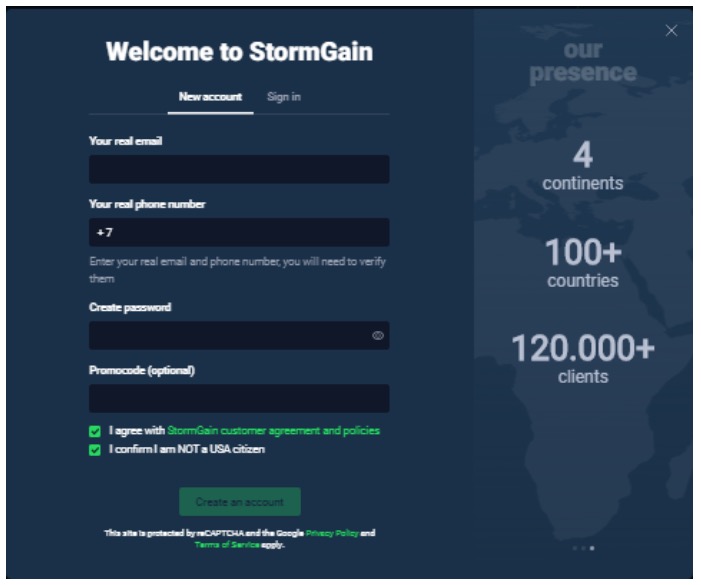 The registration process is similar to those of other cryptocurrency providers:
Once you've done that, you will then be able to use all the features of the cryptocurrency platform.
As already mentioned, the platform only supports cryptocurrencies, which facilitates easy wallet deposits and withdrawals.
If you have used other wallets to store cryptocurrency in the past and still have coins left in them, all you need to do is perform a simple inter-wallet transfer to fund your StormGain account with any of the cryptocurrencies supported by the platform. It's worth noting that the main cryptocurrency used on this platform is Tether. This means that all payments will be carried out using this currency.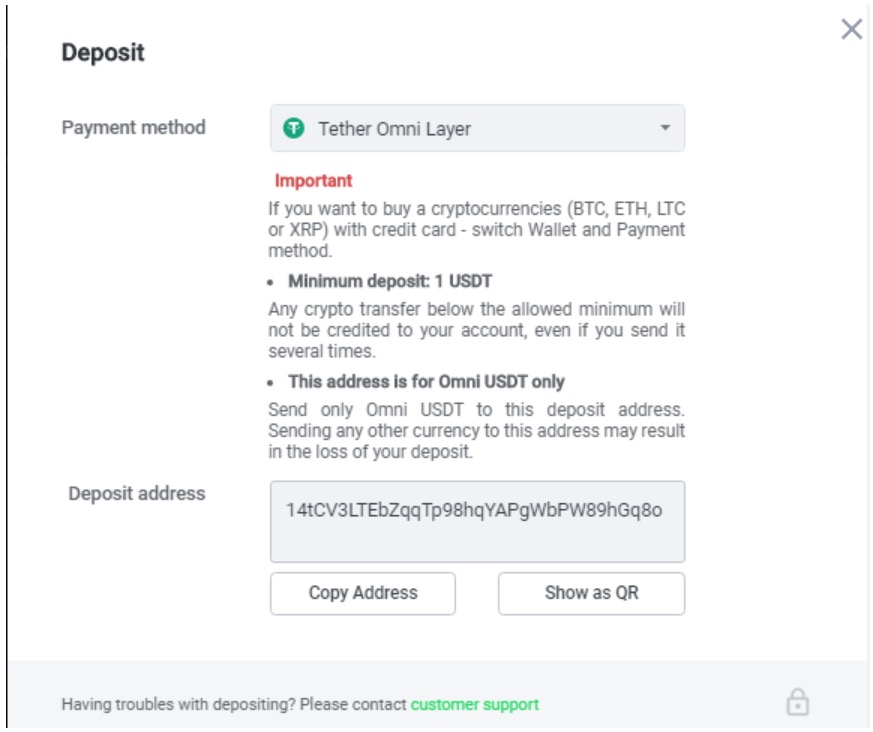 StormGain charges no commission on deposits made in cryptocurrency. That said, there are minimum deposit amounts in place (for example, for Tether this is 50 USDT and for Bitcoin it is 0.005 BTC).
The second option for depositing funds to your wallet involves the use of third-party services enabling the exchange of fiat money for cryptocurrencies. To use this method, you'll need a StormGain wallet address.
The developers of the StormGain platform took great care to make it as easy as possible to add funds to your account and have even provided the option of depositing funds directly to your wallet via your debit/credit card. To do this, all you need to do is select the desired cryptocurrency and the corresponding payment method from the list. However, you should be aware of the following restrictions: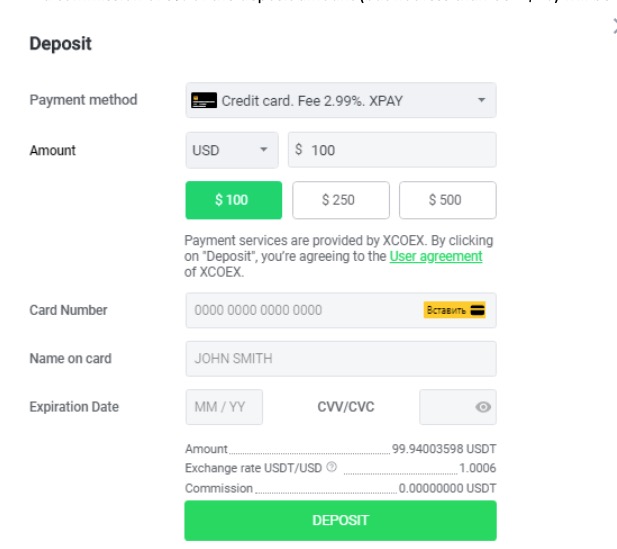 Although StormGain charges a debit/credit card deposit fee, this method eliminates the need to use third-party services. All transactions take place within the StormGain trading platform and are conducted automatically over encrypted connections. As a result, transaction speeds are much faster and your funds are much better protected.
Withdrawals are also processed very quickly. If you are going to withdraw funds to a cryptocurrency wallet, then all you have to do is select the cryptocurrency you need and enter the wallet address. Commission on crypto transactions is fixed at 0.1%, regardless of the currency you are withdrawing.
StormGain offers much higher leverage than most other platforms. This is one of the key advantages StormGain has over other trading platforms and we will talk more about it in this section.
StormGain offers trading in all the most popular cryptocurrencies, including Bitcoin, Tether, IOTA, Bitcoin Cash, Monero and many more besides. In total, around 30 cryptocurrencies are available to trade on the platform, which is enough to satisfy the needs of the majority of cryptocurrency users.
The platform provides more than 40 indicators to assist with technical analysis. These include ready-made graphic patterns and profit/risk calculators.
Particular attention should be paid to the traders' sentiment indicator, as it has a great influence on any strategy modifications. This gives StormGain a huge advantage over other cryptocurrency platforms since the provision of such an indicator is rare. It helps users identify the prevailing trend and make decisions about future trading operations.
StormGain offers four main types of orders. The first is the Market Order, which is the default option and corresponds to real-time trades. The second type is known as a Limit Order. It involves buying or selling assets when their price reaches a certain level. In addition to these, StormGain also supports Stop Loss and Take Profit orders, which are used respectively to limit losses or lock in profits before its too late.
The multiplier is one of the StormGain trading platform's core selling points. It is no secret that many platforms allow cryptotraders to risk more funds than they have available on their account.  For the purposes of comparison, the world-famous cryptocurrency platform Binance allows users to trade with leverage of 1:5. The same amount of leverage is also available on Huobi. Meanwhile, a platform as popular as Cex.io only allows leveraged trading up to 1:3. StormGain, on the other hand, offers multipliers up to 1:200. This is much higher than the amount offered by other platforms.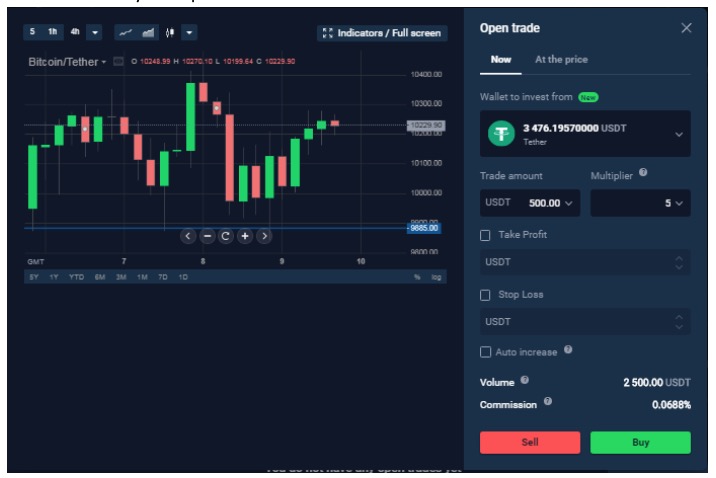 This multiplier allows you to benefit more from less intense price movement, even if your starting capital is very small. Nonetheless, it is worth remembering that using a multiplier also increases your risk when trading.
StormGain provides a lot of bonuses and special features for its users. It was precisely these bonuses and features that enabled the platform to quickly gain in popularity and build trust among cryptocurrency traders.
Extended loyalty programme
The StormGain platform provides its users with some of the best trading terms around. The company offers several different loyalty levels, each with its own unique set of bonuses.

As you can see, your individual account type can greatly improve the terms you receive as a trader on the platform. The higher your account status, the more bonuses you will be eligible for. These might include, for example, an increased bonus for account deposits or a discount on trading commission.
How to qualify for a given status
Each user is automatically assigned a certain status depending on their account balance or monthly trading volume. In other words, the more active you are, the higher your status. Likewise, if your activity drops over the course of a given month, your status will also drop.
StormGain has its very own trading platform, which is also available for Android and iOS. This means that you can always keep abreast of any developments on the cryptocurrency market and carry out transactions from almost any device, anywhere. As the cryptocurrency market is open for trading 24/7 (including weekends and public holidays), this allows users to quickly respond to market events as and when they take place.
The platform provides plenty of great opportunities to help you prepare for your first real trade. If you take look in your account, you will find video tutorials that deal with everything from the ins and outs of trading with StormGain to basic trading skills. These lessons will be very useful both for newbies at the beginning of their cryptotrading journeys and experienced traders looking to refresh their knowledge.
What's more, the StormGain trading platform also allows users to practice making trades on a free demo account. The demo account gives everyone the opportunity to try their hand at trading without the need to risk their own funds.
It's important to note that the demo account is available for use at any time. Therefore, even if you are already well-versed in trading, you can always switch from your real account to a demo account in order to test out new strategies.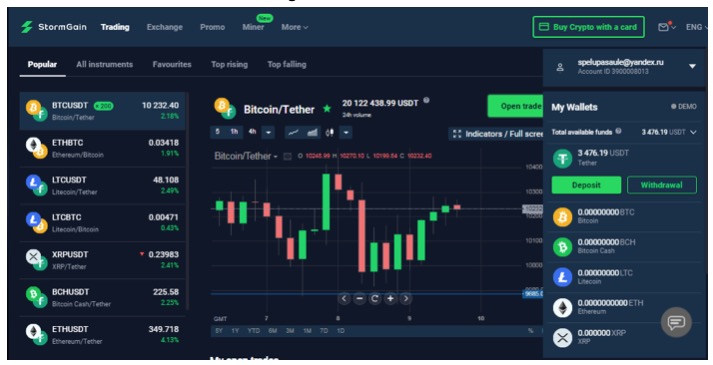 Security has always been a very important element of any online service. But when it's also client funds and not just user data that is at stake, then any platform for trading cryptocurrency must provide the highest level of protection. What kind of protection is offered by StormGain?
First off, it provides the ability to create a "cold wallet". This is one of the unique features of the StormGain trading platform. On most platforms which deal with a large number of different cryptocurrencies, there are no "cold wallets". This type of wallet exists offline and is immune from any malicious intruders.
The second key feature is the ability to activate two-factor authentication using Google Authenticator. The StormGain team strongly recommends connecting 2FA so that your account is protected even in case of the loss of login data.
The StormGain platform is trusted by users worldwide. The partnership with Newcastle United football club plays an important role in this. In addition, the platform is a member of the Blockchain Association which itself operates under under the auspices of the Financial Commission.
The level of customer support can make a platform the best in the world or make its users hate it. For cryptocurrency platforms, the customer service element is no less important than that of making the service secure.
StormGain offers customer support via: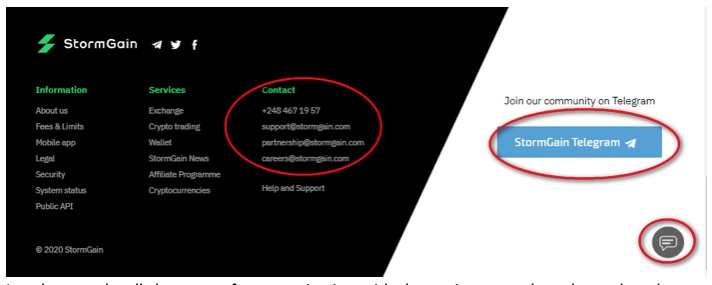 In other words, all the ways of communication with the project team have been thought out. Depending on your problem and preferences, you can choose any method and quickly find a solution.
The StormGain cryptocurrency platform is a fairly young project. Nevertheless, in just over a year and a half of its existence, it has been able to earn the trust of its users and demonstrate excellent quality of services.
One of the platform's "disadvantages" is that the minimum deposit amount is quite high. But given the extensive functionality, the presence of a loyalty and training program, the high level of security and other positive aspects offered by the StormGain trading platform, it can be argued that this platform has high potential. StormGain directly competed with the established leaders in the cryptocurrency trading platform market and is a great choice for both beginners and experienced traders.
Copyright © 2023 iCryptome.com